Title: Unveiling the Magic of Food & Wine Pairing: Tango Argentine Grill's Extravaganza
November 20, 2023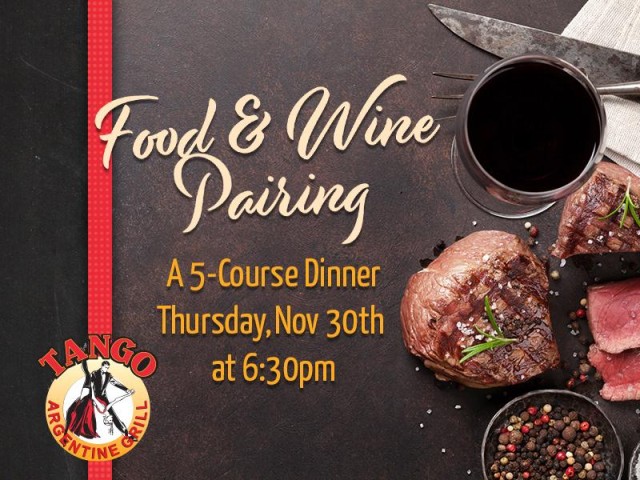 When it comes to creating a truly memorable dining experience, there are few things that can compare to the perfect fusion of exquisite cuisine and exceptional wines. If you're a foodie and wine enthusiast looking to embark on a culinary journey like no other, mark your calendars for November 30, 2023. Tango Argentine Grill is hosting a Food & Wine Pairing Dinner that promises to tantalize your taste buds and elevate your appreciation for the art of gastronomy.
🍷 A Wine Lover's Paradise
Prepare to be swept off your feet as you step into the world of Tango Argentine Grill on this special evening. The event features an array of fantastic wines sourced from two distinguished wine regions - Napa Valley in California and Portugal. These wines have been handpicked to complement each course of the meal, offering a harmonious symphony of flavors and aromas.
🍴 A Gourmet Adventure
The 5-course dinner at Tango Argentine Grill is a culinary masterpiece. Each dish has been meticulously crafted to showcase the finest ingredients and flavors, with a particular highlight being the inclusion of mouthwatering Angus steak on the menu. Whether you're a carnivore or prefer vegetarian options, there's something for everyone to savor.
🍇 Meet the Wine Expert
Leading the evening's festivities is none other than Patrick Burke, a distinguished Napa Valley wine specialist. Patrick's passion for wine and his deep knowledge of the industry make him the perfect guide for this culinary adventure. He'll take you on a journey through the nuances of each wine, offering insights into their origins, characteristics, and how they harmonize with the dishes.
🥂 A Memorable Evening
The evening kicks off with a reception at Mambo Jambo at 6:30 PM. Guests will be welcomed with a delightful drink and amuse-bouche to whet their appetites. From there, the enchanting experience continues as you're seated at Tango Argentine Grill. As you sip and savor, you'll find yourself immersed in a world of flavors and aromas that will leave an indelible mark on your palate.
🍷 Supported by Pepia-Est
Tango Argentine Grill is proud to have the support of Pepia-Est, Aruba's premier wine supplier. Their commitment to quality and passion for wine perfectly aligns with the vision of this event. Together, they ensure that only the finest wines are selected to complement the exceptional cuisine on offer.
💲 Reserve Your Spot
To secure your place at this extraordinary Food & Wine Pairing Dinner, reservations in advance are a must. The cost is $65 per person, with a 15% service charge. Given the limited number of seats available, early booking is recommended to avoid disappointment.
To make a reservation or for more information, please call 586-8600.
Tango Argentine Grill invites you to savor the magic of food and wine pairing like never before. Don't miss this opportunity to indulge in the finest flavors Aruba has to offer. Join us on November 30th, and together, we'll raise our glasses to a night of culinary delight and wine-infused elegance. Cheers to an unforgettable evening! 🍽️🍷✨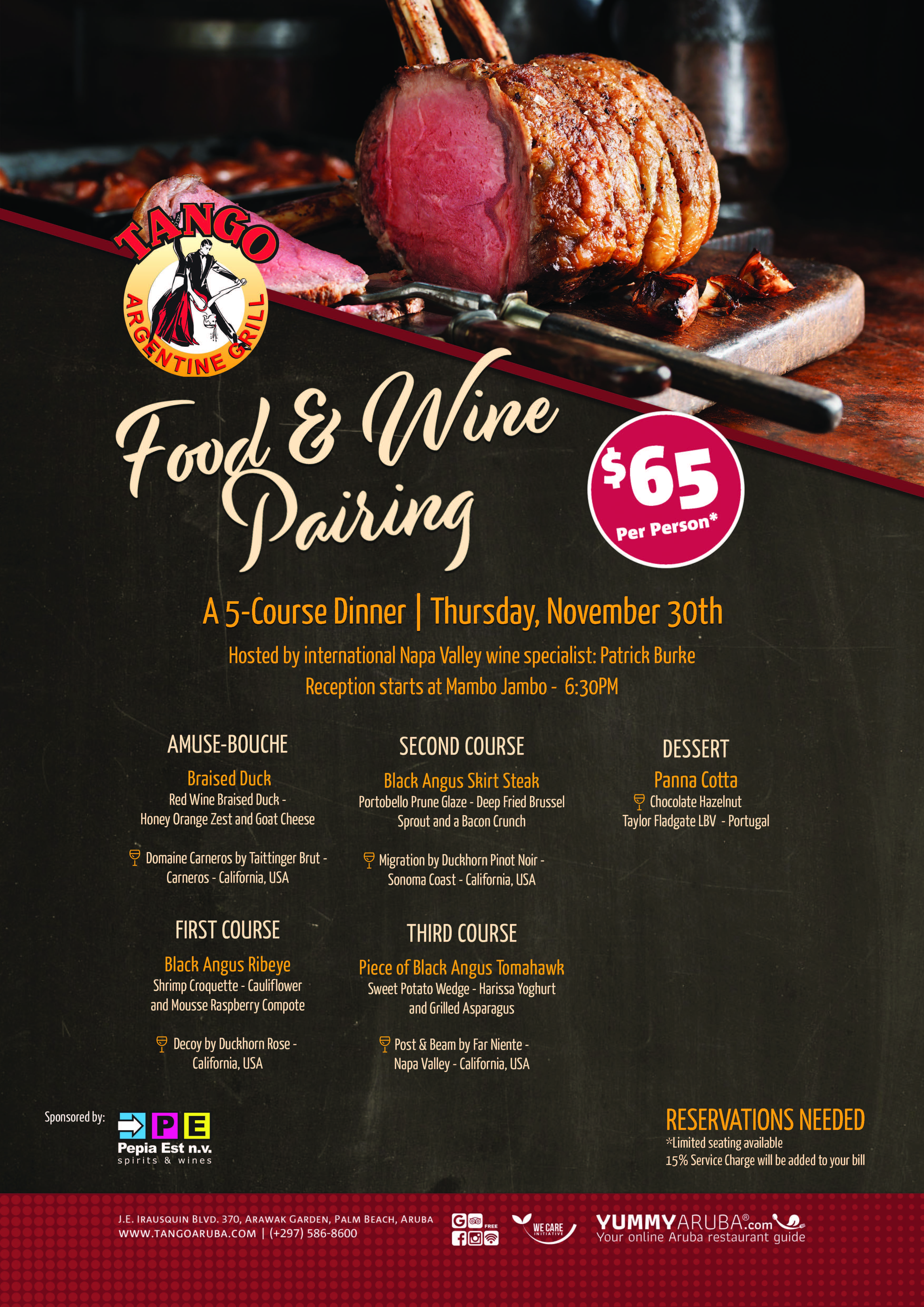 #FoodAndWine #TangoArgentineGrill #WinePairingDinner #ArubaDining
Read more news