A Stunning Food & Wine Pairing Night With the Wagner Family!
January 19, 2023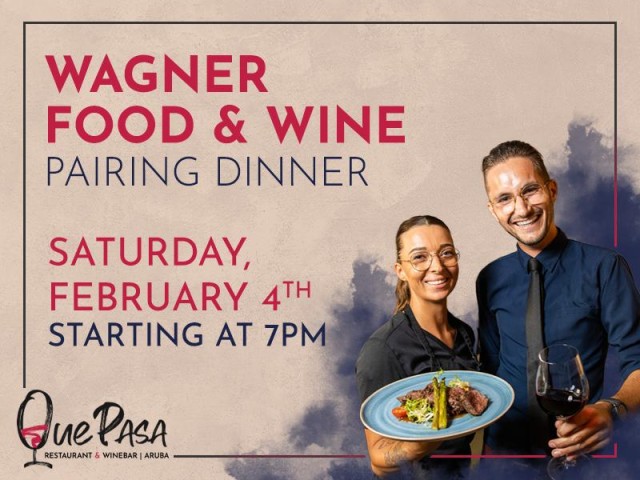 When food is appropriately paired it can truly make any dish sing. It is all about finding that perfect match that complements and brings everything in perfect balance. On Saturday, February 4th Caymus Vineyard will pamper the guests of Que Pasa Restaurant & Winebar with the finest wine of the Wagner Family. A night of exquisite delight!
This extraordinary dinner will present its diners with a 5-course menu, each exceptionally prepared and paired. The first pairing will be a tasty amuse of flamed scallops with yuzu-soy gel, crème of scallions, and crispy potato. This is paired with an Emmelo Sauvignon Blanc from California. The night will continue with two appetizers and their pairings from California, USA. The Sea Sun Chardonnay presents notes of apricot, honeysuckle, apple, and oak with a silky texture. An excellent way to start one's wine journey. As for the main course, a lamb fillet is served with grilled zucchini, puffed eggplant, couscous, and garlic sauce. This is paired with Caymus Grand Durif from Suisun Valley, California which has notes of blackberry vanilla with a touch of pepper. The night will end with a spectacular bavarois of raspberry with white chocolate ganache, crispy raspberry, and mint gel.
Charlie Wagner was a farmer through-and-through before co-founding Caymus Vineyards. He grew captivated by wine and winemaking, becoming a serious home winemaker. In 1972 he founded Caymus Vineyards and for generations, their main passion of sharing good company, great food, and delicious wine has been a stepping stone for success. So, make your reservations today for a great night of fine dining with the Wagner Family of wine!
The Food & Wine Pairing Dinner on February 4th will start at 7 pm. The price is US$89 per person. Reservations are needed. For the menu and reservations, visit quepasaaruba.com or call (+297) 583-4888. Que Pasa Restaurant & Winebar is located at Wilhelminastraat 18, Oranjestad.