An Outstanding Culinary Night with Great Food and Wine!
November 14, 2022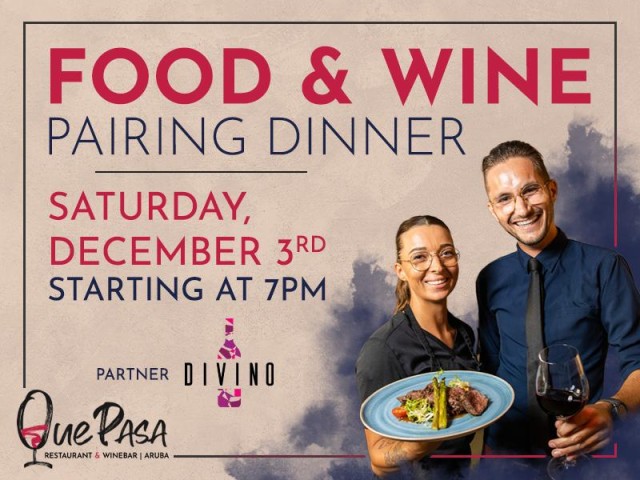 There's nothing better than matching your wine to a beautiful meal and good company. The enjoyment of food and wine is enhanced as much by the experience and those you choose to share it with as it is by choosing a pitch-perfect combination. On December 3rd guests of Que Pasa Restaurant & Winebar will have the opportunity to experience a special night of wining and dining during the final Food & Wine Pairing Dinner event of 2022.
This extraordinary dinner will present its patrons with a 5-course menu, each uniquely prepared and paired. The first pairing will be a tasty cauliflower panna cotta with sundried tomato foam, kalamata and olive crunch. This is paired with a Segura Viudas Cava from Spain. The night will continue with two appetizers and their pairings from Alsace France and Marlborough New Zealand. Keeping up with Italian traditions, the second ravioli dish is a great way to savor the night. The ravioli, a dish of stuffed pasta, is a humble but important dish in Italian cooking traditions. Humble in its ingredients of cheese and meat or vegetables found in a particular region, and special in that it is often prepared with loved ones for the feast table at Christmastime or for a family celebration. An excellent way to learn about food and wines from different parts of the world.
As for the main course, a lightly smoked duck breast fillet with carrot foam, red beet risotto, Jerusalem artichoke, and kale chips is paired with Serre de Roveri Red Barolo Italy which has a fair amount of red fruit, plums, cedar, vanilla, licorice, and a touch of roses. The night will end with a delicious lemon sponge pie with orange bavarois, kalamansi gel, and vanilla meringue. This is paired with the exceptional luca bosio Moscato d'Asti Piedmonte Italy.
So, make your reservations today for a great night of fine dining and a taste of Oporto, Portugal!
The Food & Wine Pairing Dinner on December 3rd will start at 7 pm. The price is US$ 75 per person. Reservations are needed. For the menu and reservations, visit quepasaaruba.com or call (+297) 583-4888. Que Pasa Restaurant & Winebar is located at Wilhelminastraat 18, Oranjestad.