Lovers of local cuisine, this one is for you!
August 7, 2020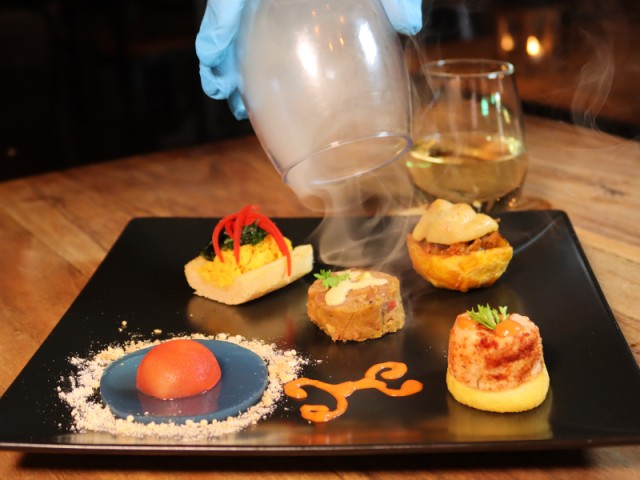 Salt & Pepper Restaurant & Taps Bar in the Arawak Garden is introducing an amazing tapa special, which varies week by week. Take for example this week's special for which the chef is offering Aruba inspired tapas: local red snapper with edible gold, roulade sous vide and romesco sauce. Another amazing tapa in the special is cilantro-yellow pepper boneless goat stew, served smoking at your table. The third tapa is Aloe Vera Ravioli gel with a drunken fruit sphere. Next: boneless chicken legs keshi yena in a plantain basked. And finally, Keri Keri canape of mahi mahi with papaya aioli.
These tapas pair perfectly with a pinot grigio or a cabernet sauvignon, and therefore a glass of house wine is included in the special that goes for AWG 25 per person ($14.50).
The Arawak Garden is a cozy plaza filled with great restaurants and kiosks, and it is located across from the Barceló Resort on the hi-rise strip. Salt & Pepper is open from 8am till 11pm. Reservations are not needed but recommended. Strict COVID protocols are in place. Facemask required for entering.