Local Music Night at MooMba Beach promises lots of fun!
July 16, 2020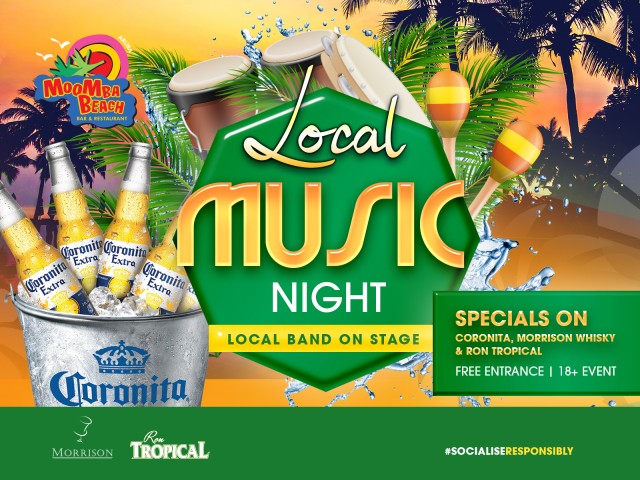 Caribbean music is a mash pot of various wonderful styles of music: salsa, merengue, reggae and so many more. All these styles have one thing in common… it's hard to sit still when you hear the rhythm and beats.
Every Friday night at MooMba Beach you can now enjoy Aruba's most talented bands performing live on stage during Local Music Night. Every week another band plays for the happy crowd at Aruba's hottest beach bar. The fun starts at 6pm and the entrance is free.
Local Music Night is sponsored by Aruba Trading Company which selected their premium drinks to be featured as a special that night. The 7oz Corona bottles – called Coronita – will go for 6 florins per bottle and 30 florins per bucket of six. House cocktails made with Morrison Whisky or Ron Tropical rum, tequila or vodka will go for 8 florins, while house mixed drinks with these brands go for 8,50 florins.
MooMba Beach is located between the Marriott and Holiday Inn, right on the beach. Parking is easy and free. For more information, go to moomabeach.com.
Note: MooMba Beach complies with Aruba's official COVID-protocols and has received health-certification by the Aruba government. #SocialiseResponsibly