New to Aruba: Albariño Serra da Estrela Galicia-Rías Baixas from Spain!
September 19, 2022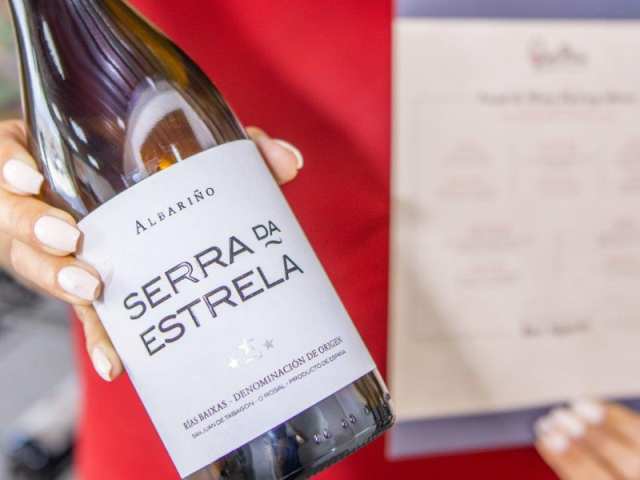 Exciting news in the world of wine lovers in Aruba! The Albariño Serra da Estrela is being introduced to the island and Que Pasa Restaurant & Winebar offers its patrons a unique opportunity to taste this magnificent white wine during its exclusive upcoming Food & Wine Pairing Dinner on October 1st.
This amazing white wine is from the Rias Baixas (Galicia) region of Spain, just north of Portugal where the climate is perfect for the Albariño grape. "This wine displays the typical Albariño character and aromatic richness. It's surprisingly intense and shows hints of pear, apricot and ripe exotic fruits complemented by a vibrant citrus character and hints of mineral and spice," says Junior Sommelier River Bunders from Que Pasa. He continues: "It's clean, fresh and long on the palate. Simply beautiful."
River and the talented Chef Michelle of Que Pasa will be hosting another edition of their Food & Wine Paring series together with the sommeliers of local wine supplier Divino, who recently brought this amazing wine to Aruba. "This wine is a match made in heaven when served with white fish. A slow cooked sea bass fillet with orzo pasta, puffed cherry tomato, green asparagus and shellfish sauce will be the dish that is complimented by the Albariño Serra da Estrela. I am sure it will leave a lasting impression," states Chef Michelle. "But we have more on the menu. All pairings will be fantastic," she smiles.
The dinner will start off with a cauliflower soup as an amuse and is paired with a Gloria Ferrer Sonoma Brut. This is then followed by a delicious Dutch crab cake paired with Dr. Loosen Riesling from Mosel, Germany. The third course is the slow-cooked sea bass fillet paired with the Albariño Serra da Estrela. This is then followed by a grilled tenderloin as the main course and paired with The Prisoner- Saldo Zinfandel; a wine that had gained amazing momentum in Aruba and is now back on the island. Dinner will be completed with a fruity and white chocolate crème custard cake as dessert. This will be paired with a DOW'S 10-year aged Tawny Port. It will be an exceptional night of wines and tasty food!
Make your reservation today for this delicious evening of wining and dining at Que Pasa Restaurant & Winebar on the 1st of October at 7 pm. The price is US$ 75 per person. To view the menu and to make reservations, visit: quepasaaruba.com. Or call (+297) 583-4888. Que Pasa Restaurant & Winebar is located at Wilhelminastraat 18, Oranjestad.
[Click here to download the Menu]