Indulge in a Culinary Extravaganza: Tango Argentine Grill's Festive Holiday Menu & Wine Pairing
November 16, 2023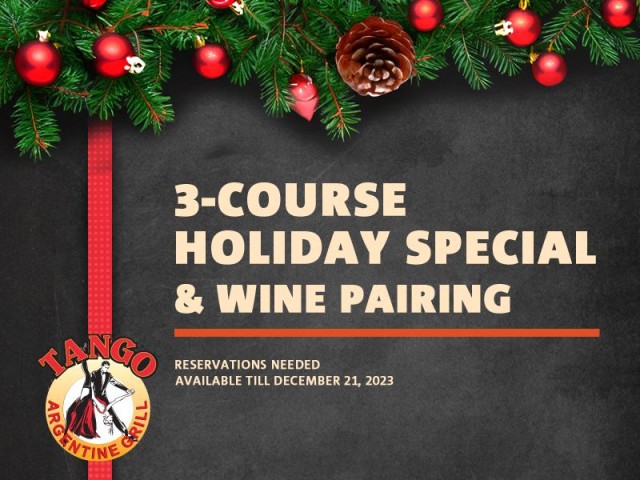 The holiday season is upon us, and there's no better way to celebrate than by treating your taste buds to a spectacular culinary journey. Until December 21st, Tango Argentine Grill invites you to savor the flavors of the season with their exquisite Holiday Menu & Wine Pairing—a gastronomic experience like no other.
A Trio of Tempting Courses
1. Traditional Goulash Soup
Kick off your festive feast with the warmth and comfort of a traditional Goulash soup. The rich, hearty flavors will undoubtedly set the tone for a memorable dining experience.
2. Carpaccio with Pesto Garlic, Pine Nuts, and Parmesan Cheese
For a sophisticated twist, indulge in the Carpaccio featuring a medley of pesto garlic, pine nuts, and parmesan cheese. The burst of flavors in each bite is perfectly complemented by the accompanying Laroche PN wine pairing, enhancing the overall sensory experience.
Delectable Main Courses
1. Slow-Cooked Turkey Breast with Smoked Ham, Sweet Pineapple Sauce, Potato Croquette, and Mushroom Onion
The main course options promise a symphony of flavors. Whether you opt for the slow-cooked turkey breast adorned with smoked ham and a sweet pineapple sauce or the tantalizing 4 Oz Filet Mignon accompanied by sautéed garlic shrimp, green asparagus, and garlic mashed potatoes, your palate is in for a treat. The Trivento Golden Reserve Malbec Mendoza is expertly chosen to elevate the dining experience, creating a harmonious marriage of food and wine.
Sweet Endings
1. Amaretto Crème Brulee with Vanilla Ice Cream and Speculaas
Conclude your festive feast on a sweet note with the indulgent Amaretto Crème Brulee, served alongside velvety vanilla ice cream and speculaas.
2. Crepe filled with Dulce de Leche, Strawberry Mousse, and Vanilla Ice Cream
Alternatively, opt for the decadent Crepe filled with dulce de leche, Strawberry Mousse, and moreish vanilla ice cream. The sweet finale is perfectly complemented by the Luco Bosco Moscato wine pairing, creating a symphony of flavors that dance on your taste buds.
Reservations Required
To partake in this culinary celebration, reservations are required. Visit tangoaruba.com for more information and to secure your place at the table. Priced at $45 per person, this holiday menu promises not only a feast for the senses but also an unforgettable experience shared with loved ones.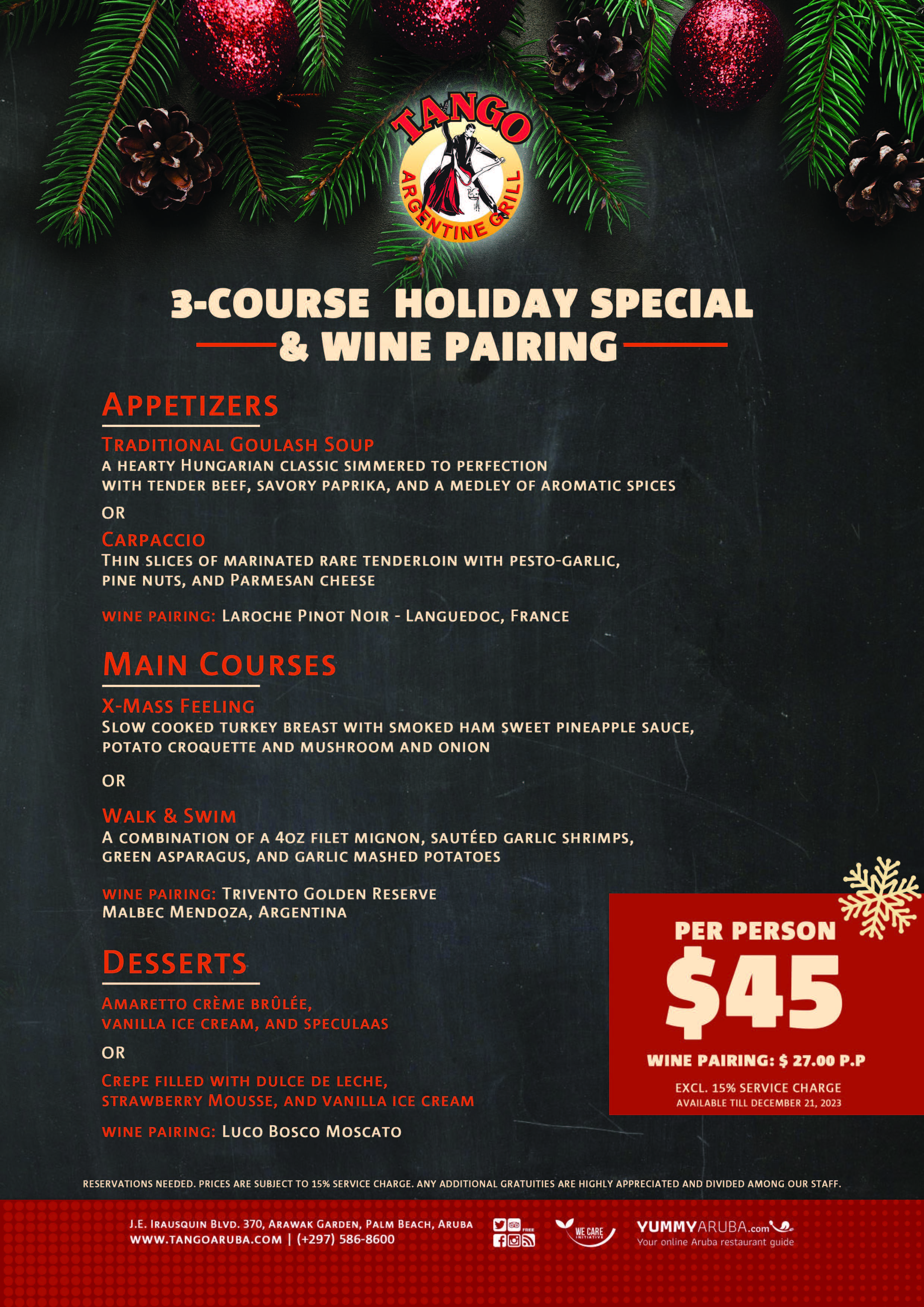 Read more news