GREAT NEWS! Restaurant Week is extended until September 10th
September 7, 2023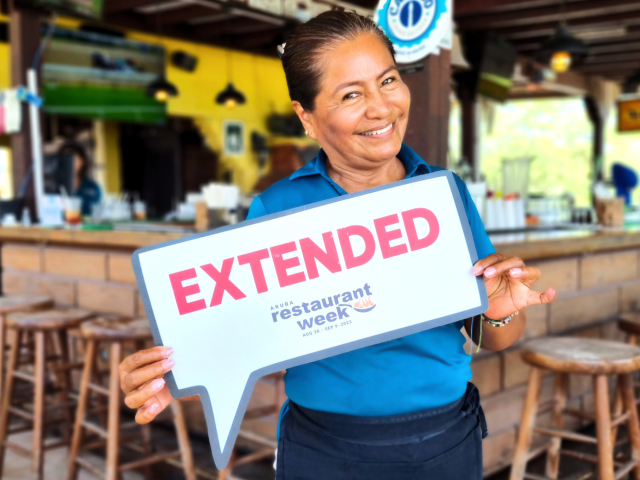 Good news for all food lovers! If you enjoy trying out different flavors, new types of food, and love a lively place to eat, then you're in for a treat. Because of its big success and thanks to many requests from our guests, the 13th Restaurant Week Aruba will go on until Sunday, September 10th.
Aruba's Restaurant Week offers a rare opportunity to immerse oneself in the rich tapestry of flavors that define our island's culinary heritage. Participating establishments will showcase a curated three-course menu, available at either Afl. 49 or Afl. 59. This event represents an ideal occasion for locals and visitors alike to experience the diverse gastronomic prowess showcased by some of Aruba's most esteemed eateries.
Highlighting a few of the participants:
Tango Argentine Grill: A tribute to Argentinean culinary traditions, perfect for the ardent meat enthusiast.
Café the Plaza: Known for its warm setting and a varied menu that promises a delightful dining experience.
Fishes & More: A haven for seafood aficionados, offering a fantastic menu.
Mambo Jambo: A fusion of Latin tastes that promises an unforgettable palate journey.
For beachside dining, MooMba Beach & Surfside Beach Bar shouldn't be missed. For those with a penchant for wines, Que Pasa Restaurant & Winebar boasts an impressive array tailored to complement their dishes. With unique culinary perspectives, both Salt & Pepper and Nos Clubhuis assure a memorable meal.
Diversify your experience at Hadicurari Restaurant, and for a touch of sweetness, indulge in the delicately soft "poffertjes" at Willem's Dutch Pancakes.
Beyond delightful dishes, Restaurant Week extends special deals on premium wines and beers, ensuring a holistic dining experience. Additionally, in the spirit of community, a portion of the Restaurant Week proceeds will be kindly donated to the Maris Stella Nursing Home in Savaneta. Dining during this week thus allows you to contribute to a commendable initiative.
For the menus and reservations, visit www.restaurantweekaruba.com. We invite you to be a part of this extended celebration of Aruba's culinary essence.
*All prices are in Aruban Florins (Afl.).
The 13th edition of Restaurant Week is sponsored by PepiaEst, Romartrading and Divino.
Read more news