Classics & Wine: An Exquisite Culinary Journey at Cafe the Plaza
May 22, 2023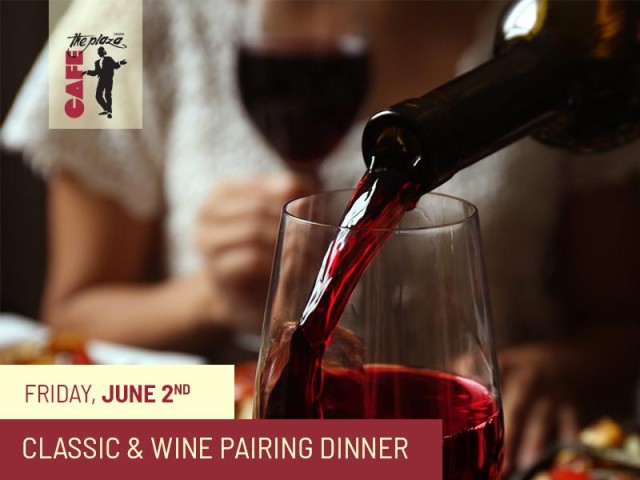 Prepare to tantalize your taste buds and embark on a delightful journey of classic flavors and exceptional wines at Cafe the Plaza's much-anticipated event, Classics & Wine. Set for Friday, June 2nd, this exclusive evening promises a five-course food and wine pairing experience that will leave you craving more. Join us as we explore a symphony of flavors, expertly curated to complement each other, and elevate your dining experience to new heights.
Pairing 1: Creamy Potato Soup and Dark Horse Pinot Grigio
Kickstart your culinary adventure with a velvety, soul-warming bowl of creamy potato soup adorned with crispy bacon and a hint of truffle oil. This indulgent creation finds its perfect match in a glass of Dark Horse Pinot Grigio from California. As you savor each spoonful, allow the crisp acidity and vibrant flavors of the wine to cut through the richness of the soup, creating a harmonious blend of textures and tastes.
Pairing 2: Fried Brie and Mirassou Chardonnay
Prepare your palate for the second pairing, featuring a tantalizing combination of flavors. Delight in the crispiness of fried brie, balanced with the peppery bite of arugula, the tanginess of dried cherry tomato, and a drizzle of balsamic vinegar. Paired with Mirassou Chardonnay, this dish reaches new heights. The wine's notes of tropical fruit and buttery richness perfectly complement the creamy, melted brie, creating a symphony of flavors that dance on your tongue.
Pairing 3: Slow Cooked Pork Tenderloin and Stemmari Nero d'Avola
For the main course, indulge in the succulent tenderness of slow-cooked pork tenderloin, served alongside a medley of perfectly cooked mixed veggies and a luscious mushroom sauce. This exquisite dish finds its ideal companion in a glass of Stemmari Nero d'Avola, hailing from the sun-kissed vineyards of Sicily.
Pairing 4: Grilled Flank Steak and Carnivor Zinfandel
Prepare your taste buds for a carnivorous delight as you savor a perfectly grilled flank steak, adorned with a rich red wine pepper sauce, and accompanied by a side of mouthwatering potato gratin. This robust dish demands an equally bold wine pairing, and Carnivor Zinfandel from California steps up to the plate with its strong fruity taste.
Dessert: Cheesecake and Somrus Mango Cream Liqueur
The night will end on a sweet note with a delectable cheesecake topped with a tangy passionfruit coulis, a sprinkle of cookie crumble, and a drizzle of mango gel. To enhance this dessert sensation, sip on Somrus Mango Cream Liqueur from Wisconsin.
Experience an unforgettable evening of culinary delights and exceptional wine pairings at Classics & Wine, a five-course extravaganza hosted by Cafe the Plaza. Indulge in the tantalizing flavors of expertly crafted dishes, accompanied by carefully selected wines from renowned vineyards. Reserve your seat now for this limited-seating event on Friday, June 2nd at 6:30 PM. Don't miss your chance to savor the perfect blend of classics and wine. Contact us at (+297) 583-8826 or visit cafetheplaza.com for more information.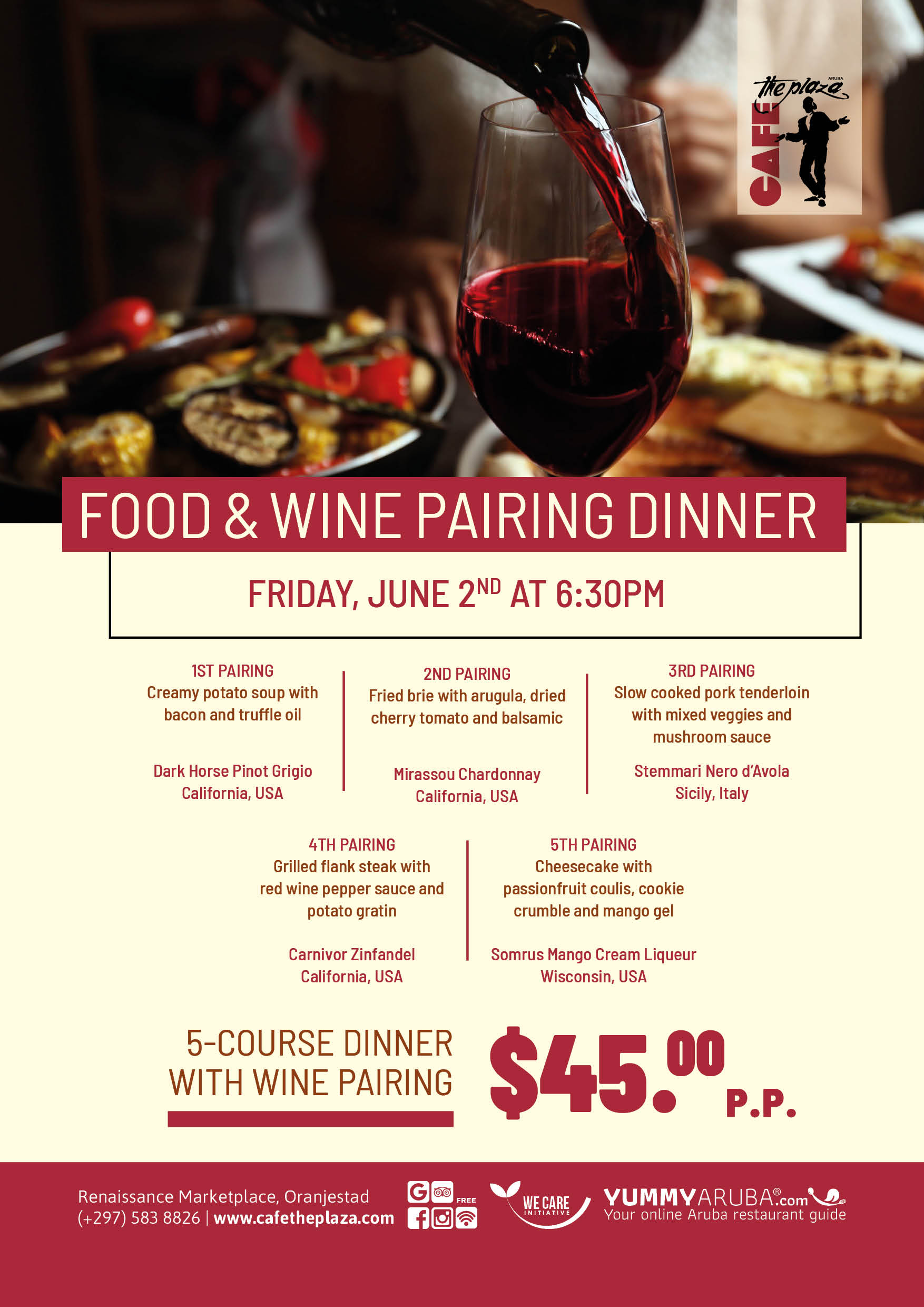 Read more news